FREE SHIPPING ON ALL ORDERS OVER $100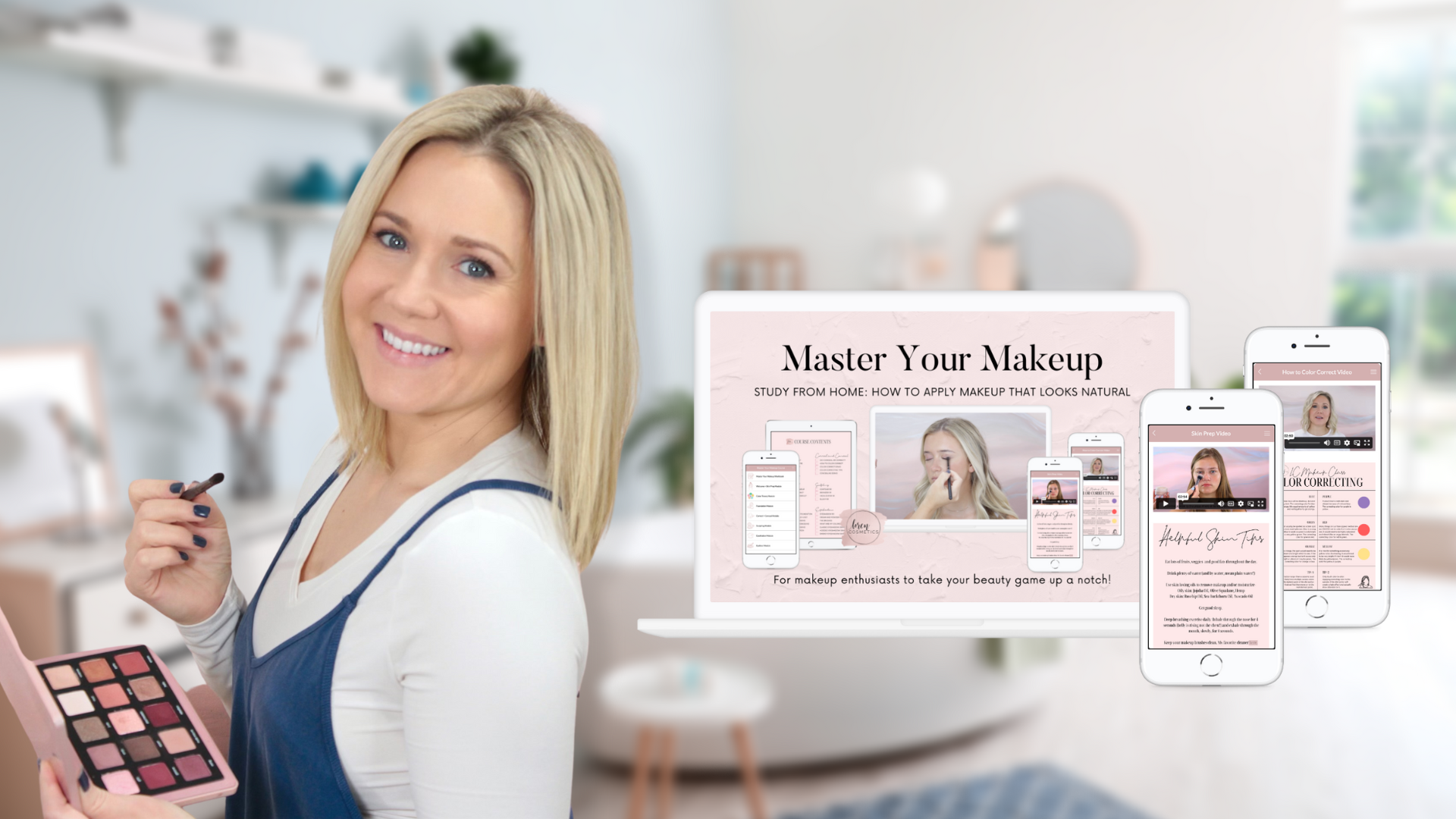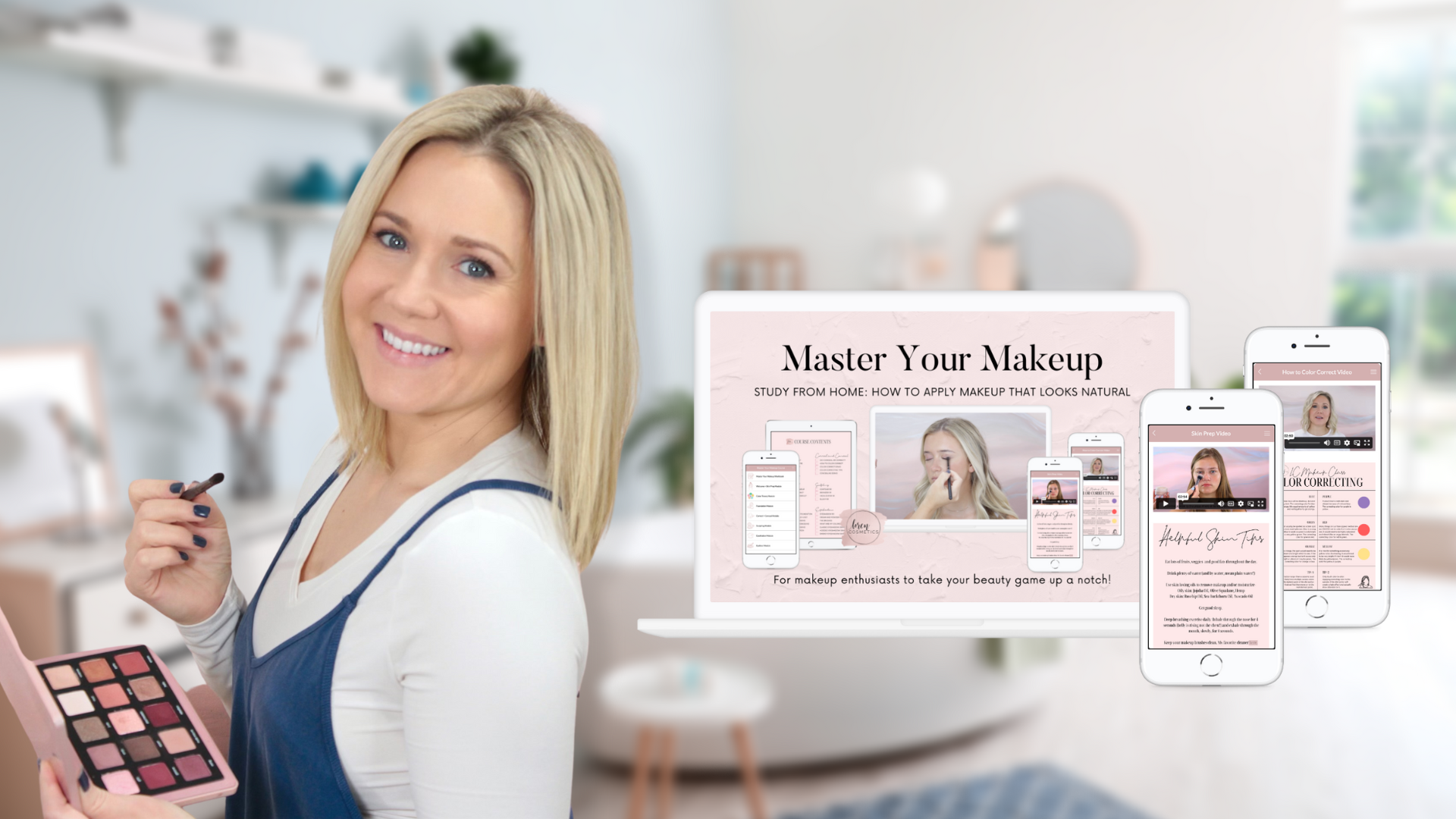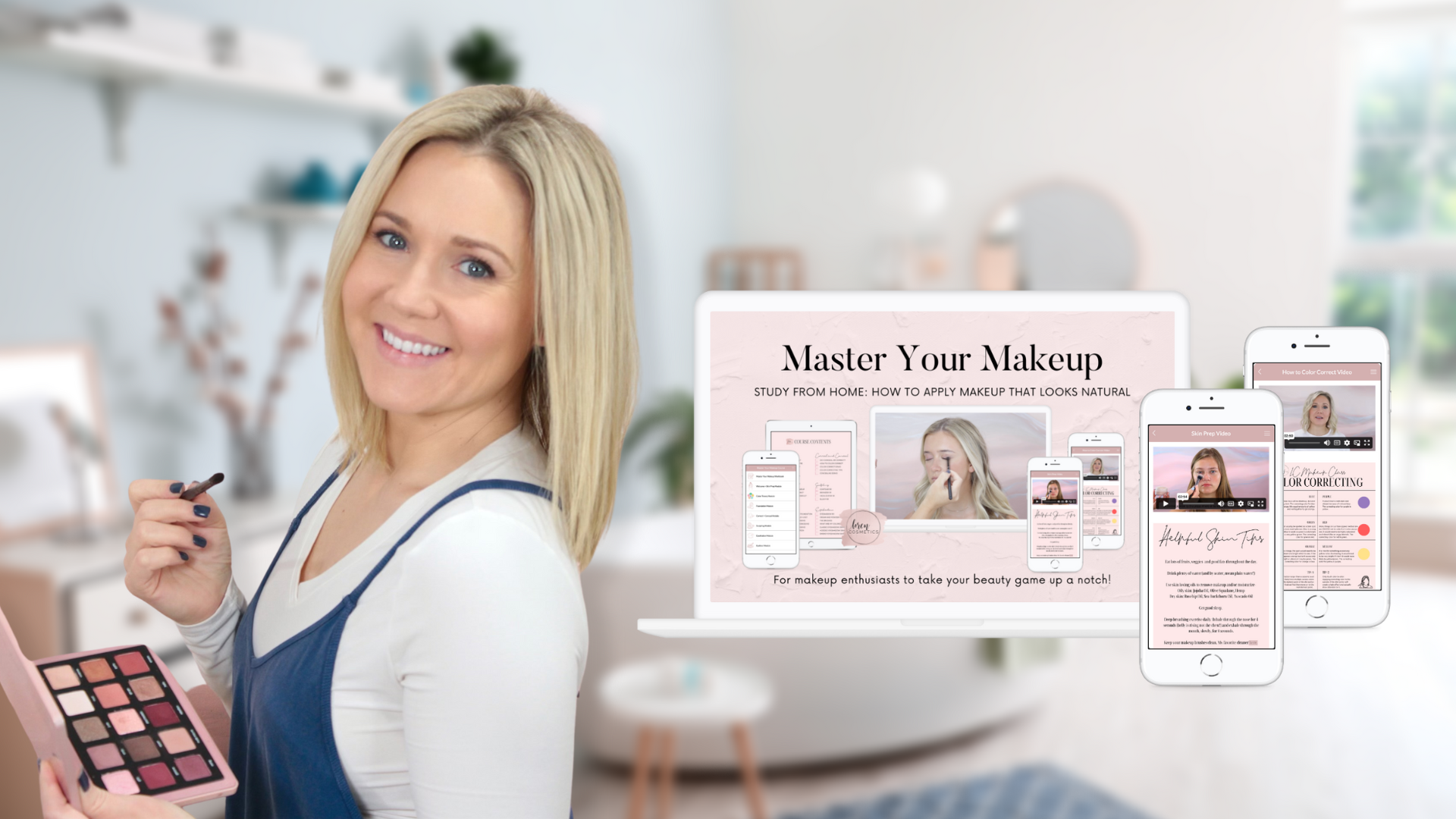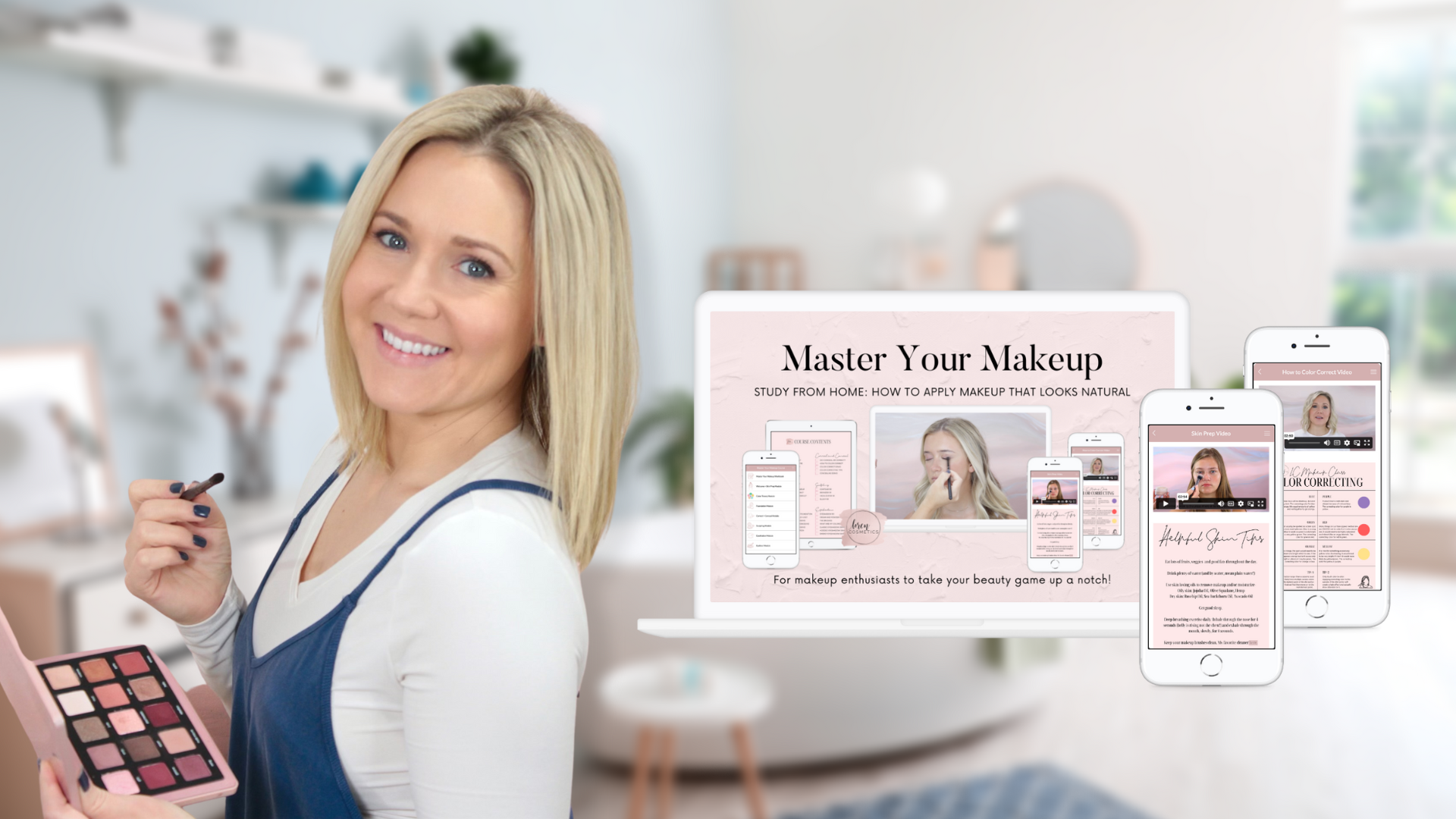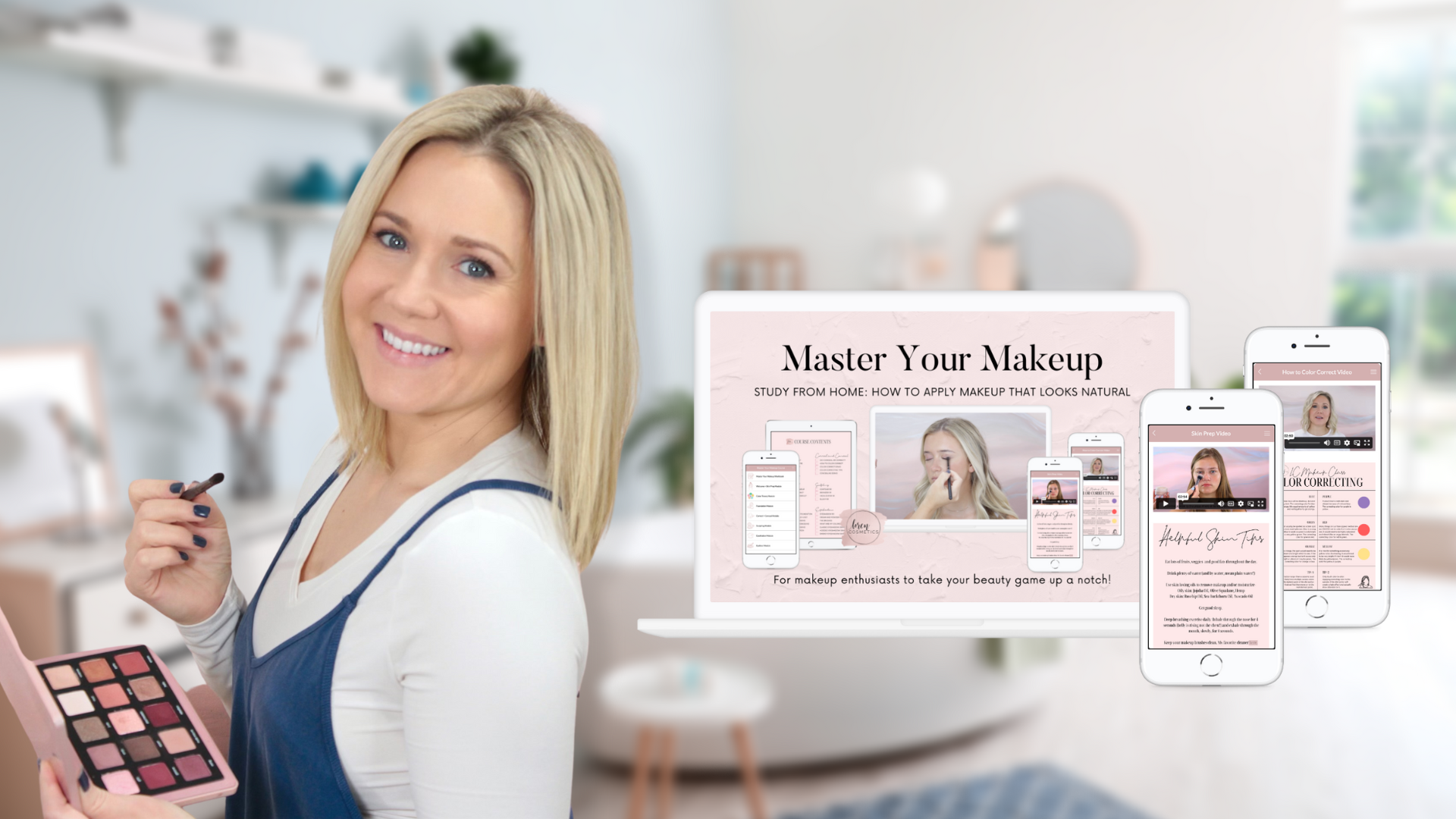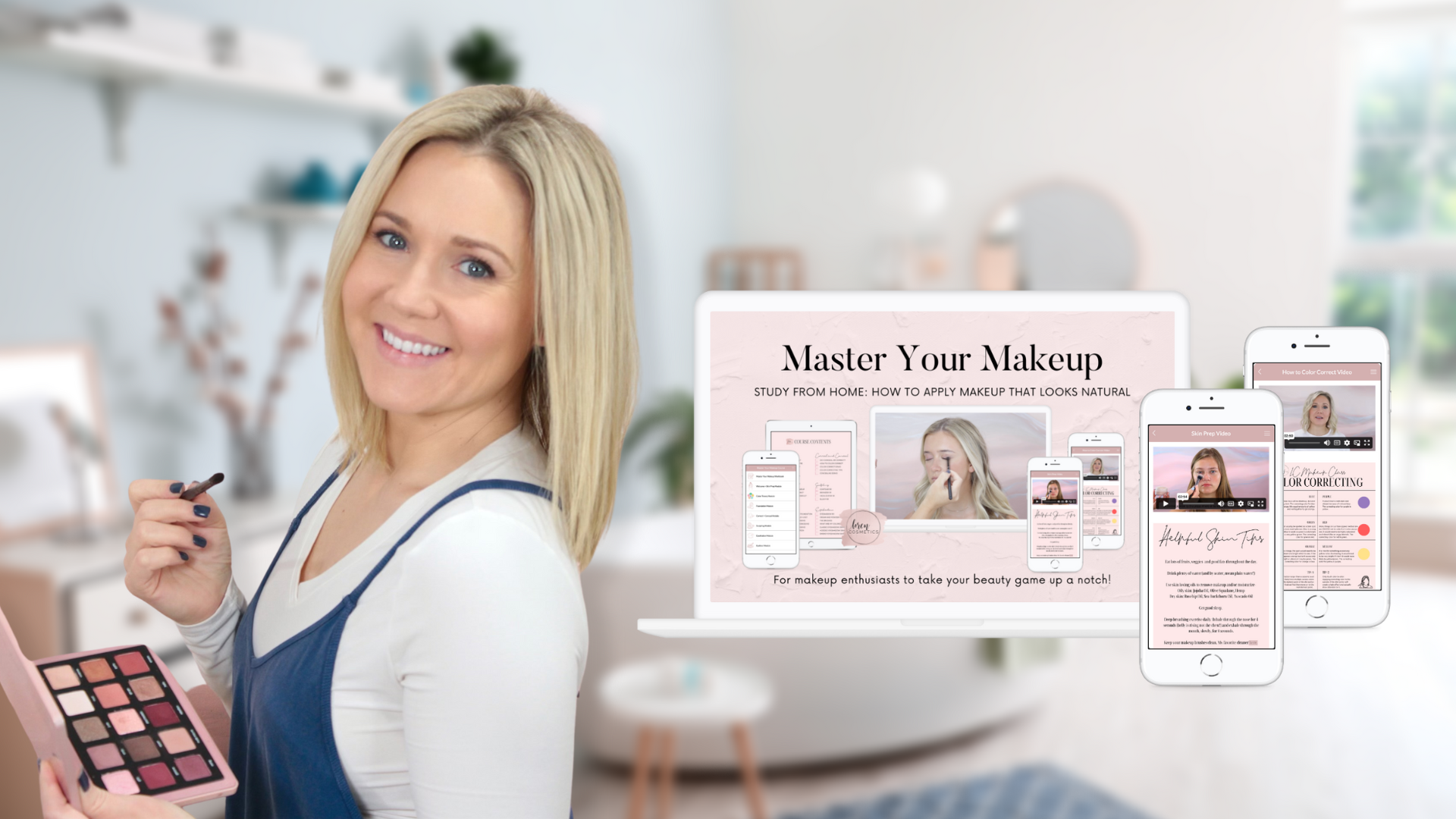 Master Your Makeup Course
Perfect Your Makeup No Matter Your Age Or Skill Level!
Enjoy the confidence that comes from knowing what products and shades look best on you and of course how to MASTER your makeup with ease!
Master Your Makeup is your ticket to finally learning how to get natural results from your makeup without wasting more money or time.
*10 Modules 
*40 Video Lessons
*85-PG WORKBOOK 
*Private 1:1 Product Video Consultation (30 minute)

*Lifetime Access!
1 - Skin Prep Module: Here, I'll teach you everything you need to know about prepping your skin for makeup application. Starting with basic action steps from beginning to end, such as cleansing, hydrating, and primer application. You can expect clear guidelines and how to use the right products to achieve the best skin-prepping routine whether you have dry, oily, or a normal skin type. It's time to get ready for perfect skin in no time!
2 - Color Theory Module: Here, you dive into the fascinating realm of Color Theory and what it takes to effectively color-correct your skin. You can learn the science behind selecting graceful color combinations and also how to neutralize problem pigmentations with ease. Never purchase the wrong shade of foundation again when you understand which undertone and overtone matches your skin.
3 - Foundation Module: I'll show you how to pick the right coverage, formula, and finish to get the perfect foundation! Whether you need full coverage, something sheer and dewy, or a matte formula with longevity – I have all the information you need – including which brush or sponge to use – to give you the look you desire.
4 - Correct + Conceal Module: If you're ever unsure about which makeup technique to pull out of your toolbox, look no further than the Correct & Conceal module! I'll break it down for you and show you exactly where to start. We go over what the difference is between concealing and correcting so that you have a clear understanding of when to use each one. Plus, I provide an easy-to-understand color-correcting chart so you can figure out which products are right for your skin tone in no time.
5 - Sculpting Module: This module dives into the art of sculpting your face with contour, bronzer, and blush – three essential tools to accentuate, de-emphasize or define your facial structure. You'll learn how to use contour to create shadows and depth, bronzer to mimic a natural tan, and blush to enhance those natural flushed cheeks!
6 - Eyeshadow Module: You'll delve into different formulations of eyeshadows such as powder, cream and liquid. You'll learn how to choose brushes specifically designed for the desired effect, along with an application demo so you can get to applying your amazing eye looks right away! This tutorial will give you all the tools needed to leave people in awe of your fabulous eye makeup.
7 - Eyeliner Module: Make your liner look flawless. We'll start with an overview of the different forms eyeliner comes in, such as pencils, gels, or liquids. Then we'll move on to a demonstration on how to apply each type of liner for perfect results every time! Plus, we'll even share tips and tricks about eyeliner techniques and which types of liners work best for specific looks. Ready to make your eyes stand out like never before?  Don't let chunky lines and smudging ruin your looks.
8 - Lashes Module: Perfecting your makeup look starts with mastering the perfect mascara and lash routine. Here, we'll get you started on selecting the right formula of mascara — from washable to waterproof — and determine which brush shape will help you best achieve that dreamy cat-eye or fluttery lashes! We'll also guide you through techniques based on your eyelids, so that your unique features will be highlighted in the most beautiful way. And if false lashes are more your style, don't worry! I have got you covered with how to apply false lashes to make an impactful statement.
9 - Brows Module: The Brows module is a comprehensive introduction detailing everything you need to know about how to create your perfect eyebrow look. We provide an overview of all the different types of brow products – from brow powders, gels and pomades, and pencils – so you can feel confident in finding the best one for your needs. And with our step-by-step instructions on how to map out and shape your brows, it's easier than ever before!
10 - Lips Module: Achieve the perfect pout! Get ready to be swept away into lip heaven as we explore different formulations of lipstick – matte, cream, lipgloss, liner and stain. Not only that, application techniques you never knew were available will be at the tips of your fingers such as how to apply lip liner and utilize lipstick tricks for longer wear.
Perfect for all skill levels!
Loren does a fantastic job of helping your figure out your style and how to get that perfect makeup look….even for those of us that don't have a clue what we are doing!
So easy to follow and made getting "dolled up" less daunting. It's like having your own personal makeup artist whenever and wherever you need her!
100% recommend for any ladies out there wanting to learn how to put your best face forward….whether that's a natural look or a little more (Loren has you covered ❤️)!
THE PERFECT COURSE!
This course is ABSOLUTELY AMAZING! It's like having a makeup artist in your back pocket at all times to answer all of your questions. Even the questions you didn't even know you had!
Loren teaches you to embrace your natural beauty, have fun with your makeup, and not to be afraid to experiment with different techniques to find the look that makes you feel your best! 💕
Everyone deserves to feel beautiful and this course is just the perfect tool!
Thank you SOO MUCH FOR CREATING THIS!
I know I needed it! ♥️